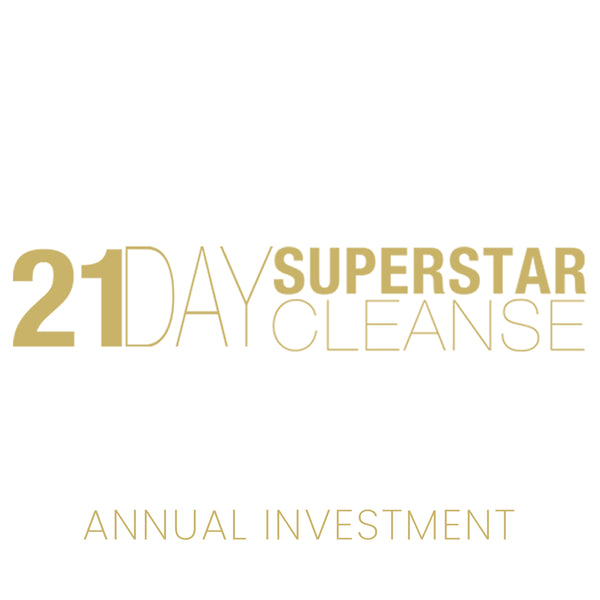 21 Day Superstar Cleanse - Annual Investment
Regular price
$ 600.00
Sale price
$ 230.00
---
Pre-reserve for the whole year and SAVE!

* SPRING * SUMMER * FALL * WINTER *
Annual Health Investment: $400/quarterly cleanse or 4 cleanses
The 21-Day SuperStar Cleanse: A Rejuvenating Lifestyle Program to Help You Feel Younger, Healthier, and Ready to Rock the World! by Rainbeau Mars
Stop Counting Calories and Indulge Your Senses!
Now is the opportunity to rekindle the warm glow of radiant health & well-being.
A time of exciting change.
A time of deep rejuvenation. A time for YOU.
Created by one of Hollywood's most sought after health, beauty and fitness advocates, The 21-Day SuperStar Cleanse: A Rejuvenating Lifestyle Program to Help You Feel Younger, Healthier, and Ready to Rock the World! is the ultimate blue-print for a lifetime of inner and outer radiance. Rainbeau Mars' expert guidance and passionate inspiration, abundant energy and excellent health can become your baseline experience for a healthier new you. Sooner than you might imagine, you will tap into an inner reservoir of vitality for meeting each day with enthusiasm and aliveness.
What is Rainbeau's secret for turning a regimen of cleansing, detoxification, healthy eating, and yoga into an opportunity for red-hot transformation?
The answer is the 21-day journey that unfolds within the pages of her newly released book, as well as virtually with an inspiring global community as part of her seasonal online program.
Join Rainbeau, industry experts, and our tribe of participants from around the world, for this transformation extravaganza in becoming the most beautiful, fit and healthy versions of ourselves in just 3 weeks!
This is a zero calorie restriction, plant-based food revitalization program. Health begins from within and in just 21 days we can reprogram ourselves, just as we update our computers, to operate at our highest vibration and efficiency. All it takes is our commitment to change!
Course Includes: Weekly Webconferences, Weekly Cleanse Guide and Menu Planners, Daily Recipes and Inspirations/Emails, and Online Forum led by our RML Board of Experts
Health Investment: $230 ($600 Value)
Day by day, week by week, Rainbeau will take you by the hand on an adventure of food, fun, inner reflection, and personal awakening. Adjusting the plan to suit your own needs and desires, you too can experience a total renewal of your physical well-being and a reconnection with your deepest sense of meaning and ultimate purpose.
As you gain an expansive new perspective on food—including how to add more delicious, alkalizing living foods into each day—prepare to feel supercharged each day and:
Enjoy a surplus of energy as you move through your day
Approach your work and other activities with mental clarity and focus
Access a state of calm awareness (even in moments of stress)
Look rested, clear, and luminous
Supplemented by a wealth of information on health and healing woven throughout each chapter, the heart of The 21-Day SuperStar Cleanse program includes the following:
A balanced menu of vegan, live food, and superfood recipes that energize, heal, and regenerate
Shopping lists and menu and activity planners for ease and simplicity
A daily dose of yoga, including Rainbeau's signature ra'yoKa fitness system
Practices for self-inquiry, self-care, and self-acceptance
Support for clarifying the intentions, goals & commitments that will ensure your ultimate success
So, no matter where your starting point is—whether you're looking for an energy tune-up, a beauty boost, weight loss, or a total health reboot—your 21-day journey can be a beautiful new beginning. It can be your fresh start.
Are you ready? It's time to get your GLOW on!
"The new you is waiting. Put aside the foods that pollute, destroy and harm, and eat what the mother has provided us—food that's healthy for your body and the planet. Rainbeau will show you how."
—James Cameron, Academy Award Winning Director/Producer
"The 21-Day SuperStar Cleanse is a great book, and the recipes are great. A gift, really. I love how Rainbeau presents her subject matter in a positive, easy light so that everyone can embrace the ideas and start to move the needle to a healthier lifestyle."
—Ashley Koff, R.D.
"To follow this star-lit path is to learn how to cook and eat deliciously; to flex your body-temple in breathtakingly loving ways; to cleanse the toxic and inhale the beautiful. Just think. In 21 days, after following this "rainbow path, " your inner and outer self will be aligned with the "true self" that you are. This isn't only a journey of a lifetime: it is the journey to life."
—Cyndi Dale, Author of The Subtle Body: An Encyclopedia of Your Energetic Anatomy; The Intuition Guidebook; Kundalini: Divine Energy, Divine Life